Going home will always be the hardest part of the trip. We put at your disposal three authentic Volkswagen T1 and T2 to make your dreams come true. Discover the charms of Asturias aboard Janis or explore the coves and landscapes of Mallorca with Betty. A epic road trip down the slow lane of the highway .
Surprise your guests the your wedding day breaking molds or live one retro experience of which we propose.
If you also have a vagabond soul, we invite you to discover our clothing line ready for your adventure or that first date. Unisex, organic and lovingly made clothing in Spain. We start engines, fasten your seatbelts, open the window and let the wind ruffle your hair. Welcome to The Vagabond Van family
<transcy>Vagabonds Originals</transcy>
---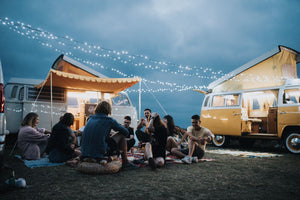 <transcy>The Vagabond Van</transcy>
According to the dictionary, homeless : Who is wandering, lacks a fixed address and a regular means of life. For us to be vagabonds is a Lifestyle , enjoy the little things , love nature, take advantage of every minute and feel that we are alive. We feed our soul with new adventures and incessant trips, following the philosophy that our house is where we park our VW Bus . In The Vagabond Van we're crazy to roll , for embarking on new adventures, for discovering, for sharing, for all this, we want to make you part of this great adventure, #makeithappen .